Yes, my dog actually ate my ORT's. Before I get into that, can someone please remind me what "ORT" stands for? LOL Anyway, our dog eats everything & by everything I mean socks, sheets & blankets, he has an obsession with eating tissue & paper towel. He can't have any bedding in his crate because he tears the stuffing out & eats the bedding. He eats the usual outside stuff & especially enjoys eating other animals' poop, which is ever so gross....he's an eating machine & nothing is safe around him. We bought him a nearly indestructible treat toy lastnight & within 15 minutes of giving it to him, he had eaten the bottom out of it, got the treat & continued to pick it apart, bite by bite, though I have to give him credit in not actually ingesting the parts this time. He simply spit them out. So, last week I was stitching....and yes he likes to try to chew on my K's Creations lap stand which makes Momma mad LOL. He likes to try to grab my colored pencil in the tray & eat that too. He even went so far as to put his jaws on my WIP of Mermaids of the Deep Blue while it was in the frame. The little booger looked at me whilst doing that like "Mommy can I please have a taste?" He's SO bad LOL Anyway, I had my lovely little ORTs in my lap stand tray, walked away to get some tea, came back & the little brat is chewing something. I see him near my stitching, logically reason that he's gotten something he shouldn't, open his mouth & see a lovely array of Kreinik sparklies, some pinks & light green flossies, oh and there was some lavender floss & bits of ribbon in there too. I tried to dig them out of his mouth but couldn't so I let him eat them all! Nice huh?
So after all of that here is my update on my stitching. Here's my WIP of Mermaids of the Deep Blue. Her arm looks like it was put in a chopping mechanism - it's uneven as I'm only working on the lighter skin color. I am recharting the colors on the skin to make the darkest parts lighter so it's more even. I'd have had the face completed but had to frog alot of it cause I was off by 1 stinking stitch. I have to say I love this fabric's color. Kudos to Picture This Plus! Though it's a bitch to stitch on because it's so dark. I have to use a white towel & major lighting.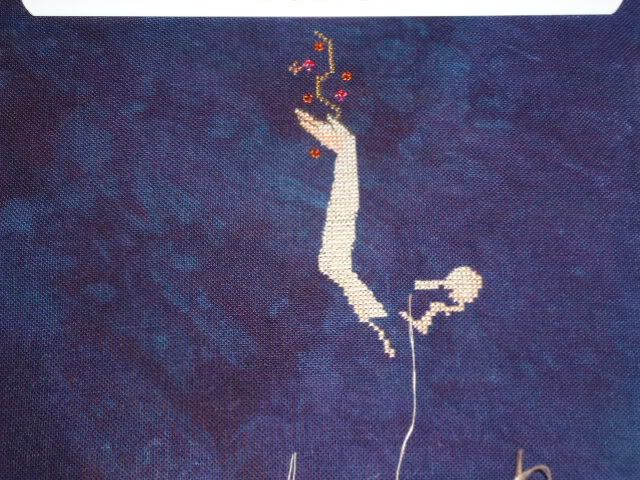 Here's my small update on Crescent Moon Dragon aka Man Dragon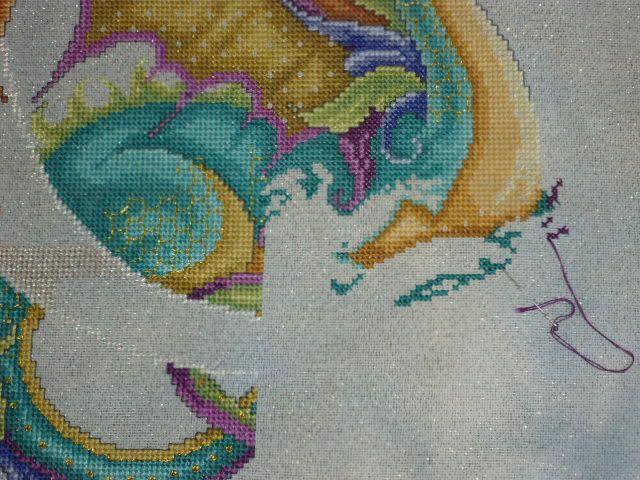 I forgot to take a picture of Tree of Hope as I had made some nice progress on that one. I spilled ALL of the green beads on the couch one evening & of course, Dino came along to try to eat those as well. I was able to save most of them - the rest will just have to stay in the no man's land that is the underside of my couch.
Thanks for stopping by!